Perforated metal
wall cladding panel becomes well sold due to the reason of uniform holes, multi-designs, good strength and protection, easily processing and economic cost. Using of perforated metal cladding adds additional metal protective layer to the wall and the building in addition to the ornamental effect.
Materials for Metal Cladding Panels: Stainless steel, brass plate, copper, aluminum, nickel and nonmetal plate.
Hole shape: Round, square, hexagonal, triangle hole, scale, diamond, etc
Surface treatment: Powder coated, galvanized, oxidation, PVDF
Plate Thickness: 0.3-2mm
Aperture: 3mm-200mm
Panel Size: 1.2*2.4m, 1.22*2.44m, 1.5*3m etc.
Color: Copper, brass, antique bronze, gold, silver, red, black, gray, orange, green, white, etc
Feature: Wear-resisting, smooth, beautiful, durable
Usage: Facade and wall decoration, sound insulation, sunshade, protective cover
Advantages of Perforated Metal Cladding Screen Compared With Traditional Constructive and Decorative Mesh Products:
1) It provides strong protection.
2) It provides special metal luster and color. It is absolutely unique and artistic. The color and luster of the metal cladding sheet change with light, bringing different visual pleasures with the changing times in a day.
3) It is one kind of new, artistic and modern product using in construction and decoration. Metal cladding mesh sheets offer a unique decorative fashion, an eye-catching and artistic outlook, for room, office, exhibition, hall, restaurant, hotel, airport, and various constructions.
4) It is easy to install with all supplied accessories and instruction.
Perforated Metal Cladding
Perforated metal cladding, with round hole, design for front facade to residential building
Thickness: 1/16"
Width & Length: 36" x 120"
Perforation Configuration: 3/8" Holes on 11/16" Centers (27% Open Area)
Margins: 1/2"
Material finish: Copper, aluminum
Perforated brass façade cladding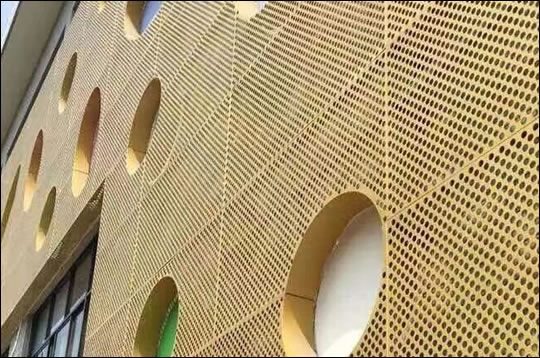 Panel sizes 3' x 10'
Perforations: circular in 2" diameter.
Metal Mesh Wall Cladding for Facade
Working partially as sunshade screen allowing for some light to enter
Project: 4-Storey Mall - Facade facelifting Project, with Installation Illustration


Perforated metal panels for Facade Cladding, powder painted colored panels