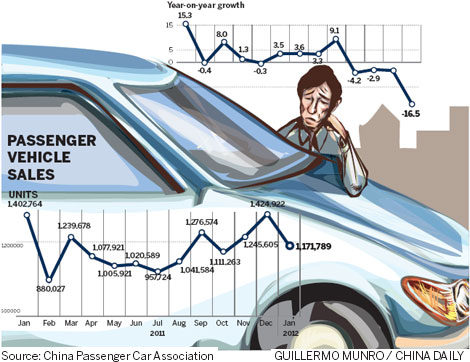 It is the first time that all segments suffered monthly negative growth
BEIJING - Sales of passenger vehicles in China registered their largest year-on-year decline in at least 10 years in January.
The retreat came as two holidays in a single month accelerated the slowdown of the world's largest automobile market.
Combined sales of cars, sport-utility vehicles, multi-purpose vehicles and minivans nosedived 16.5 percent from a year earlier to 1.17 million units in January, said the China Passenger Car Association on Tuesday.
It's also the first time in recent years that all those vehicle segments have seen negative monthly rates of growth.
"It's in accordance with our previous expectations of between 15 percent and 20 percent negative growth. The three-day New Year holiday and week-long Spring Festival not only cut production days by almost 50 percent, but also led to a void in the vehicle showrooms," said Rao Da, secretary-general of the association.
However, Rao said that the fact that the Spring Festival fell in January this year will provide a year-on-year sales increase of around 30 percent in February. Compared with the same month in 2011, the month will see working days increase by an additional 31 percent.
General Motors Co, which regained the global top spot for vehicle sales from its Japanese rival Toyota Motor Co in 2011 - partly as a result of its success in the Chinese market - said that its sales in the country were down 8 percent on an annual basis in January. The company's sales in the United States also dropped 6 percent year-on-year over the month.
China's biggest automaker, Shanghai Automotive Industry Corp (SAIC), whose three major joint ventures claimed the top three spots in domestic passenger vehicle sales, also reported a decline in January.
The Shanghai-listed company said in a statement that January sales of 380,350 units equated to a decline of 8.48 percent compared with 2011. Its self-developed brands registered a huge decline of 45.34 percent year-on-year.
The rate of growth of China's automobile market has slowed since the cessation of the government's stimulus measures - including trade-ins and subsidies - that had run for the previous two years.
The cancellation of the stimulus policies ended skyrocketing annual growth rates of 46 percent in 2009 and 34 percent in 2010. The industry saw year-on-year growth of a mere 2.45 percent in 2011, the lowest since 1999.
However, analysts said that the slowdown indicated that the industry is back to single-digit yearly growth, which signals a healthy development.
Shi Jianhua, deputy secretary of the China Association of Automobile Manufacturers, predicted that total domestic vehicle sales in 2012 will be about 20 million units, with year-on-year growth of 8 percent.
Shi also forecast that exports will be between 1.05 million and 1.1 million units this year, a rise of between 25 and 30 percent from 2011.