Engineers at the Ohio State University inspired by a Brazilian Fern, Salviniamolesta,develop a waterproof coating for protecting the surface of boats and submarines. The fern has its surface covered with oddly shaped hair, which is capable of trapping air and reducing friction. These hairs enable the plant to remain floating in water.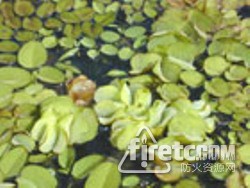 Brazilian Fern
Engineers at the University have created a coating, which has a similar texture as the eggbeater plant. The plastic coating created by the engineers is soft and fluffy in its texture. The air pockets that are trapped by the weed bring down the friction between the plants surface and water and hence help in making it stay afloat. There is also a sticky region in the plant, which increases its stability.
Bharat Bhushan from the Ohio University's mechanical department explained that the Salvinia leaf has a structure, which exhibited both sticky and buoyancy properties. He explained that the coating developed by the researchers also exhibited slipperiness at the base and stickiness at the hair tips. The hair structure was such that it did not allow water to penetrate between them, even when the sample was turned onto one side perpendicularly. The surface of the coating exhibited an adhesive force of 201 nanoNewtons, while the leaf exhibited a force of 207 nanoNewtons. Bhushan also drew a comparison of the adhesion force with that of the force exhibited by the gecko lizard. The inspiration Bhushan drew from the lizard led to the development of a repositionable, 'smart' adhesive.