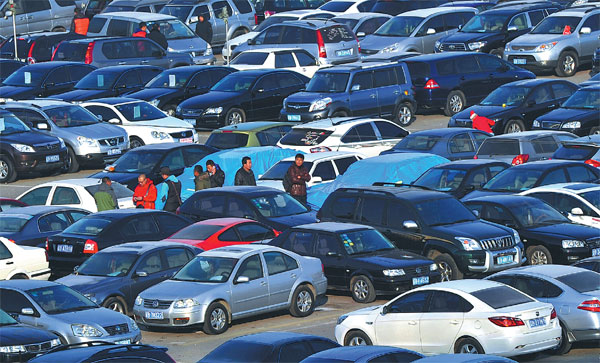 (
Customers choose vehicles at a used car market in Dalin, Liaoning province, where all used cars outside the province should pass a quality inspection. [Photo by Liu Debin/For China Daily]
)



CARS, China's largest online used-car dealer, will build more brick-and-mortar stores to attract consumers, after the company raised $818 million in its latest round of financing led by Tencent Holdings Ltd, said Yang Haoyong, CEO of CARS.
The move comes as competition intensifies in the country's used-car sector after favorable government policies were announced to allow cross-region movement of such vehicles for sales.
"Offline experience is important to help consumers make the final decisions. Brick-and-mortar stores can also help us offer better aftersales services," said Yang on the sidelines of the ongoing Boao Forum for Asia Annual Conference 2018 on Tuesday.
According to him, the three-year-old company already has opened more than 27 offline stores, and a large number of new outlets will come on the way.
In March, the central government said more efforts would be made this year to scrap any limits on cross-region flow of used cars, as part of the country's broader push to make the automobile industry globally competitive.
The move signals a huge opportunity for China's used-car sector because it will greatly boost the circulation of such vehicles. Currently, the country has about 217 million cars on the road, official data show. Most of them are owned by residents in first and second-tier cities. But demand for used vehicles chiefly comes from consumers in small cities, resulting in huge demand-supply imbalances geographically.
The prospect is luring a number of players to march into the sector, including Didi Chuxing, China's largest ride-hailing platform. As part of its broader push to outcompete rivals, Yang said his company would spend 2 billion yuan ($318 million) on marketing in the future to build up brand appeal to consumers.
"The auto industry is a trillion-dollar market. Even though we write big checks on marketing, we can keep a healthy cash flow. Building up brand attractiveness is important for us to flourish in the sector," Yang added.
In 2017, 12 million used cars were sold across China, up 19 percent year-on-year, the latest data from the China Auto Dealers Association showed. Overall sales hit 809.2 billion yuan last year, marking a stellar growth of 34 percent.
Last year, CARS integrated its used-car and new-car businesses-Guazi and Maodou-to offer better services amid mounting competition. Guazi offers one-stop services for used cars-buying, selling, renting, fixing and insuring-thereby meeting almost any need of customers for such vehicles, while Maodou focuses on the leasing and renting of new cars.
Yu Mu, senior analyst from Beijing-based internet consultancy Analysys, said advertising plays a big role in boosting sales in the car sector. But strong efforts are also needed to ensure that online and offline services are well-connected.
DIN 75200:Determination of burning behaviour of interior materials in motor vehicles
http://www.ecosafene.com/EN/firetesting/motorvehicle/955.html