fire resistance aluminum foil faced glass wool
1.Excellent thermal insulation
2.Excellent rebound property
3.Low heat conduct
Fire resistance aluminum foil faced glass wool:
We are top manufacturer of Centrifugal Glass Wool products, including Glass Wool Blanket/Felt/Roll, Glass Wool Blanket Board. Our products are with CE certificate, and have been exported to USA, UK, Germany, Poland, etc.
The Centrifugal Glass Wool Blanket/Felt/Roll and Board are excellent heat preservation and sound absorption material for steel structure, ceiling, outer wall, partition wall, train compartment, air duct, etc. It features:
1. Excellent for heat preservation, thermal insulation, sound absorption;
2. Non-combustible, nontoxic, and resistant to corrosion;
3. Low thermal conductivity, stable chemical property, low moisture rate and good hydrophobicity;
4. Low weight by volume, good rebound elasticity;
5. Low constructional cost, short cycle of works, non-stimulation to the skin.
Below are the main indexes of physical properties of centrifugal glass wool
Item

Unit

Index

Standard

Density

Kg/m3

10-100

GB/T 5480.3-1985

Average fiber dia.

Um

5.5

GB/T 5480.4-1985

Water content

≤1

GB/T 3007-1982

Grade of combustibility

Non-combustible Grade A1

GB 8624-1997

Reshrinking temp.

≥250

GB/T 11835-1998

Thermal conductibility

w/m.k

0.038-0.06

GB/T 10294-1988

Hydrophobicity

≥98.2

GB/T 10299-1988

Moisture rate

≤5

GB/T 16401-1986

Sound absorption coefficient

1.03product reverberation method

24kg/m32000HZ

GBJ47-83

Slag inclusion content

≤0.3
Product specifications of centrifugal glass wool
| | | | | |
| --- | --- | --- | --- | --- |
| Product | Length(mm) | width (mm) | Thickness (mm) | Density kg/m3 |
| Boards | 1200-2200 | 600-1200 | 20-100 | 24-96 |
| Felt in roll | 5000-30000 | 1200 | 25-150 | 12,16,20,24,32,40,48 |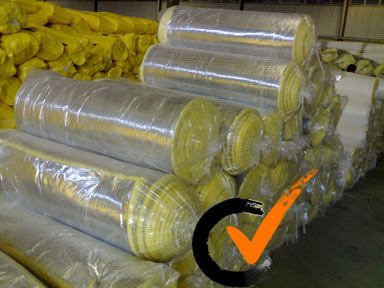 update Date:2011-7-5 19:59:06